If you want to get some Cash For Audi Cars, Sydney Wide Cash for Cars is the perfect place to call. Our focus is on putting the reasonable price in the hands of Audi owners. Being an auto buyer and wrecker that specialises in Audi vehicles, we can help you with everything. For instance, our Free Car Removals service is available in Lovett Bay, Bankstown, Darlinghurst, Earlwood, Rockdale, and all other Suburbs in Sydney.
To sell your old Audi car, please call us today at 0434 450 140.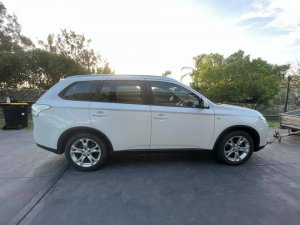 We Accept All Models of Audi Vehicles!
There is no concern as to the condition of your Audi car. Because at Sydney Wide Cash for Cars, we buy vehicles of all states for up to $6,999 instant dollars. Our fast and convenient 'Audi Car Removals' are the quickest way to sell your unwanted Audi in any situation:
Wrecked, Scrap, Rusted, Damaged, Salvage, Used, Collision, Junk, Broken, Flooded, Accident, Low Mileage, High Mileage, Fire, Etc. And earn from $150 to $6,999 instant cash in your pocket. There is no better way to get rid of your unwanted Audi & earn decent cash for your car, SUV, van, or 4WD in your hand. We accept and buy:
Audi A3, Audi A4, Audi A7, Audi A6, Audi A8, Audi All Road, Audi Q3, Audi Q5, Audi Q7, Audi R8, Audi S3, Audi S4/RS4, Audi S5/RS5, Audi S6/RS6, Audi S7/RS7, Audi S8, Audi SQ5, Audi TT, Audi TTS and many more.
We Are The Best Audi Wreckers Of Australia
Sydney Wide Cash for Cars is Australia's best Audi Wrecker. We are in the business of wrecking vehicles to resell their parts for steel. This guarantees our clients that when they sell their unwanted or salvage Audi to us, we'll be making full use of all the auto parts under the hood, not just the high-demand spare parts that are easy to resell. 
Our Audi Wreckers accepts mechanically damaged vehicles beyond repair and recycles the car to new, reconditioned parts and new steel to resell, recycle, and reuse. Our professional members with the knowledge of all models of Audi put up to $6,999 cash in your hand.
Our mechanics and wreckers guarantee 100 per cent Audi vehicle recycling without additional charges. When you have an Audi to dispose of, call us at 0434 450 140.
Enjoy Hassle-Free Ford Removals Sydney
At Sydney Wide Cash for Cars, we specialise in Audi automobiles. Our Cash For Cars offer is the best in the automobile industry, where we pay you at the time of the removal process. To take advantage of our service, you must have a valid photo ID and the title of ownership for the Audi car. We will finish all necessary paperwork on your behalf, so you don't have to worry about it.
Earn Cash For Audi Cars In 3-Simple Steps.
Selling your old Audi vehicle can be a tedious process, as it can take a lot of time and energy from your end. It can easily take months if you're looking for a private buyer. It will include searching for customers via different sources, haggling over the prices, and struggling to earn the cash you deserve for your Audi vehicle.
Sydney Wide Cash for Cars eliminated the whole labour for you. Here, you can get rid of your Audi on the same day using just 3-simple steps:
Contact us.

Call our team today and get an instant quote. You can also reach us through our 'Get a Free Quote Now' form mentioned on this page's left. Our customer associate will request you to share a detailed description of your automobile, including your vehicle's brand, model, age, and damages. We will send you a suitable

Cash For Audi Cars

offer based on that. 

Schedule an Appointment. Our quotations are fully obligation-free. You can choose to accept or reject it. Once you approve our proposals, the next step is to arrange free Audi car removals for you. You can schedule the appointment at your time convenient for you. Our team is available to serve you 24/7. 
Earn Decent Cash For Cars.

We will pay instant dollars for your Audi cars on the spot up to $6,999. Our trained team will carefully remove unwanted Audi from your premises without leaving a scratch. We will collect your vehicle from one hand and offer you money with another. This whole process will be completed within just a day.
Contact Us Today
We will buy your old Audi over a call and won't skimp on our offer. Call us immediately at 0434 450 140, or fill our online form to know more. You can send us an email at enquiry@sydneywidecashforcars.com.au.